Just want to share some of the secrets with you if you haven't read it: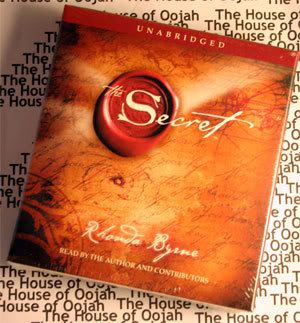 According to the book, the secret=the law of attraction. Since like attracts like, you have to think positive thoughts to attract positive things in your life.
3 basic steps to the secret:
Step 1: Ask
The first step is to ask. Make a command to the Universe. Let the Universe know what you want.
(remember to be specific though! and don't say "I don't want"... must always say "I want")
Seems pretty easy...I want:
to grow

10 cm

taller (hey it's not demanding at all k...

148cm+10=158

only! gosh i just realized I'm really, really short...ok nvm)
have good skin (zit free, oil free) so there won't be any temptation to pop them.. Even when it's not ripe yet... (okay it's getting gross, I know)

to be able to stuff myself with food and

still not get fat

(don't we all?

)
a cute, simple, humble, loving,... *babbles an endless list of adjectives into space*.... boyfriend

*blushes*

... or not LeeHom also can la :)
Step 2: Believe
Believe that it's already yours. Have unwavering faith. Believing in the unseen. Start make-believing. As you make-believe, you will begin to believe you have received.
So it's me getting delusional and imagining things = me trying to
believe
. Here it goes:
Sometimes I just feel so darn tall. I don't like wearing heels anymore 'cause I'm taller than Lee Hom. Not good to lower his self esteem eh? And speaking of self esteem, I suspect he's inwardly jealous of me; he keeps stuffing me with food, food and more food!
Apparently he's trying to ruin my 36-24-36 figure but it's not working... And gosh, I have really smooth skin. Did I mention my great body? Haha. I'm so in love with myself. I know you love me too :)
Step 3: Receive
Begin to feel wonderful about it. Feel the way you will feel once it arrives. Feel it now.
Haha I think I felt it in step 2 :)
Try it out! But if you end up in Hospital Bahagia / Tanjung Rambutan it's so not my fault :P